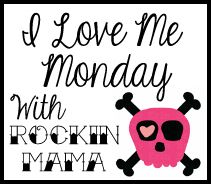 I LOVE ME MONDAY is just that, loving who you are!
Step out from behind the camera and embrace your beauty!
3 questions are listed below to answer, please include them with your self portrait.
Questions:
1. What is one thing you always seem to forget and want to punch yourself for it? I always seem to forget my sunglasses when I am not just driving. The sun here in Arizona is like living on the surface of the damn sun and too bright and blinding to be without them. You would think the brightness would make me remember? Nope, I'm special like that!
2. If you could spend 15 minutes with any person of your past, present, living or deceased who would you choose? I would choose to spend it with my best girlfriends. They always make me laugh and make sure I stay in a happy mood. No sad times with my best hookers!
3. What's your favorite way to wake up? To a quiet peaceful house on my own terms which means no alarm clocks or kids fighting over who gets the last of the damn Fruit Loops! Hey! Who said I had to be realistic?
This was taken a while back. I look like ass as the present moment so this one will have to do!
★Now your turn!★
Grab The Button
Create Your Post
Answer The Questions
Self Portraits Only
Come Back And Link Up!