I am getting back into blogging...Finally! So what a better way to start then to let everyone know what makes me happy! So head on over to
Mamarazzi
to link up!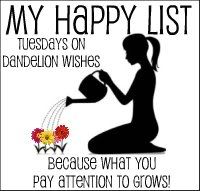 What makes me happy right now is:
* My boys being in school!
D started 3rd grade this year and is loving his teacher and school. He also has a thing for a girl sitting right in front of him, so much so that he has told me about what she wears each day! It is a wonder he has good grades with all the time he spends checking her out each day.
Monkey started Kindergarten this year and he is having more trouble than D with adjusting to school but is getting better. Last week he was crying and according to the teacher 5 girls surrounded him to give him hugs and tell him it would be ok. He later told me that it was "creepy" and said he will not cry anymore because he doesn't want girls around him.
It makes me happy when I get to bake and make all sorts of yummy goodies for my friends and clients. Like the gender reveal cake posted below
It makes me happy to get to lay in the tub with a cold drink and a great book and just soak away all my worries.
It makes me happy to spend time with my family and friends who keep me sane and level headed in this crazy life.